A new kind of electronic health record for a new kind of healthcare.
Heal is a healthcare practice specializing in digital healthcare software products, enabling doctor house calls, telemedicine, remote patient monitoring and appointment scheduling.

Heal's practice focus is primary care for seniors with chronic diseases, delivered to the patient's home.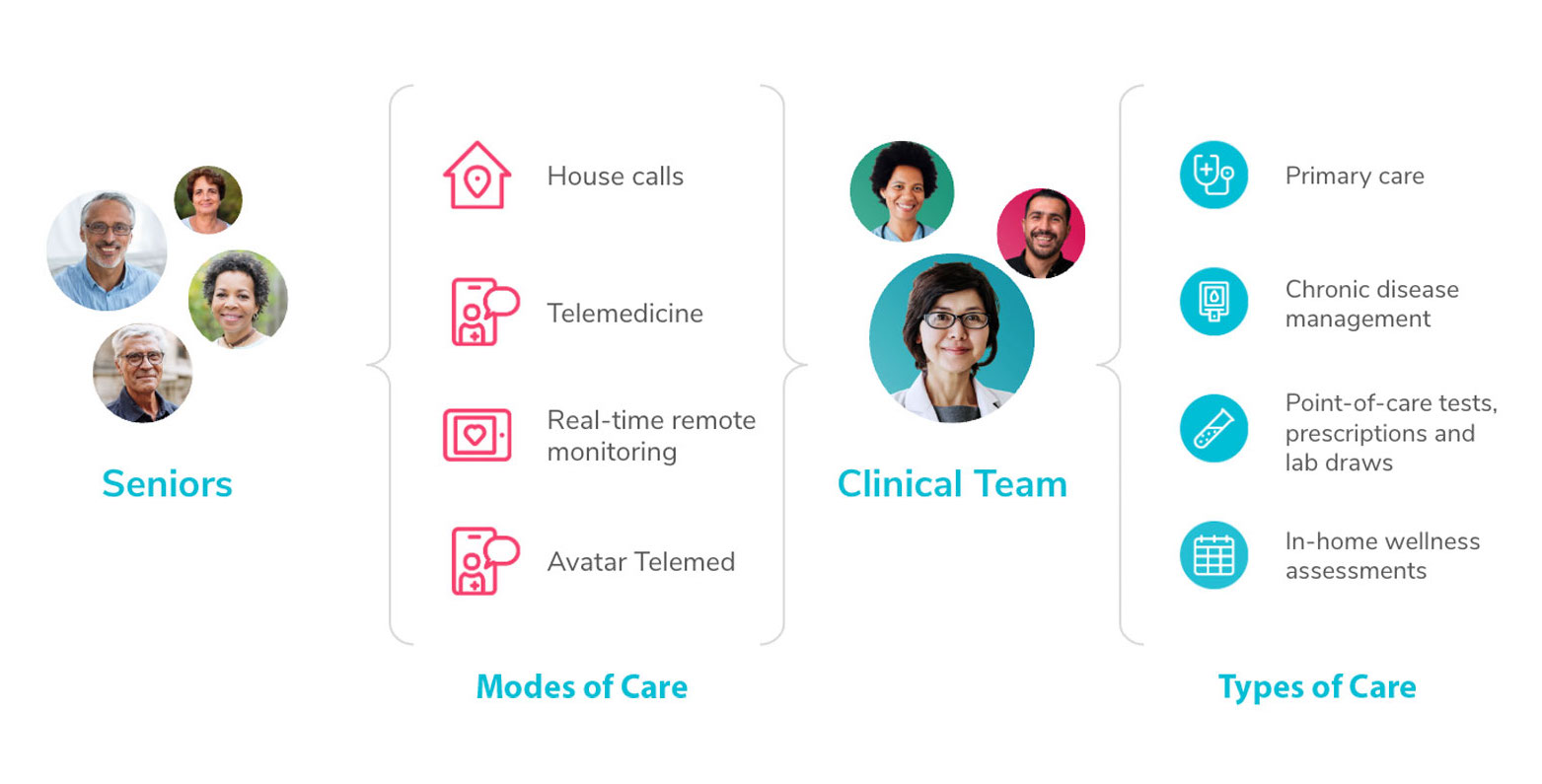 Why Build A New Electronic Health Record System?
Overview
Heal embarked on a new mission to provide a more comprehensive, less expensive and more convenient care model to the Senior patients that needed it most. This model of value-based healthcare is one in which healthcare providers are reimbursed based on the quality and outcomes of care they provide, rather than the quantity of services they deliver. This approach aims to improve patient outcomes and reduce costs by incentivizing providers to focus on preventive care and efficient treatment.

In contrast, the fee-for-service model pays providers for each service they perform, regardless of whether or not the service was actually needed or effective. This can lead to unnecessary treatments and higher costs.
Heal needed an electronic health record (EHR) system that was designed for implementing a model of value-based care, focused on Seniors with chronic conditions, utilizes mobile technology and could be used across all four modalities of care. There wasn't any existing products in the market that fit these needs.

The next 9 months would kick off an ambitious project to revolutionize electronic health records and create a product that was the flagship product that connects the entire Heal suite of health products.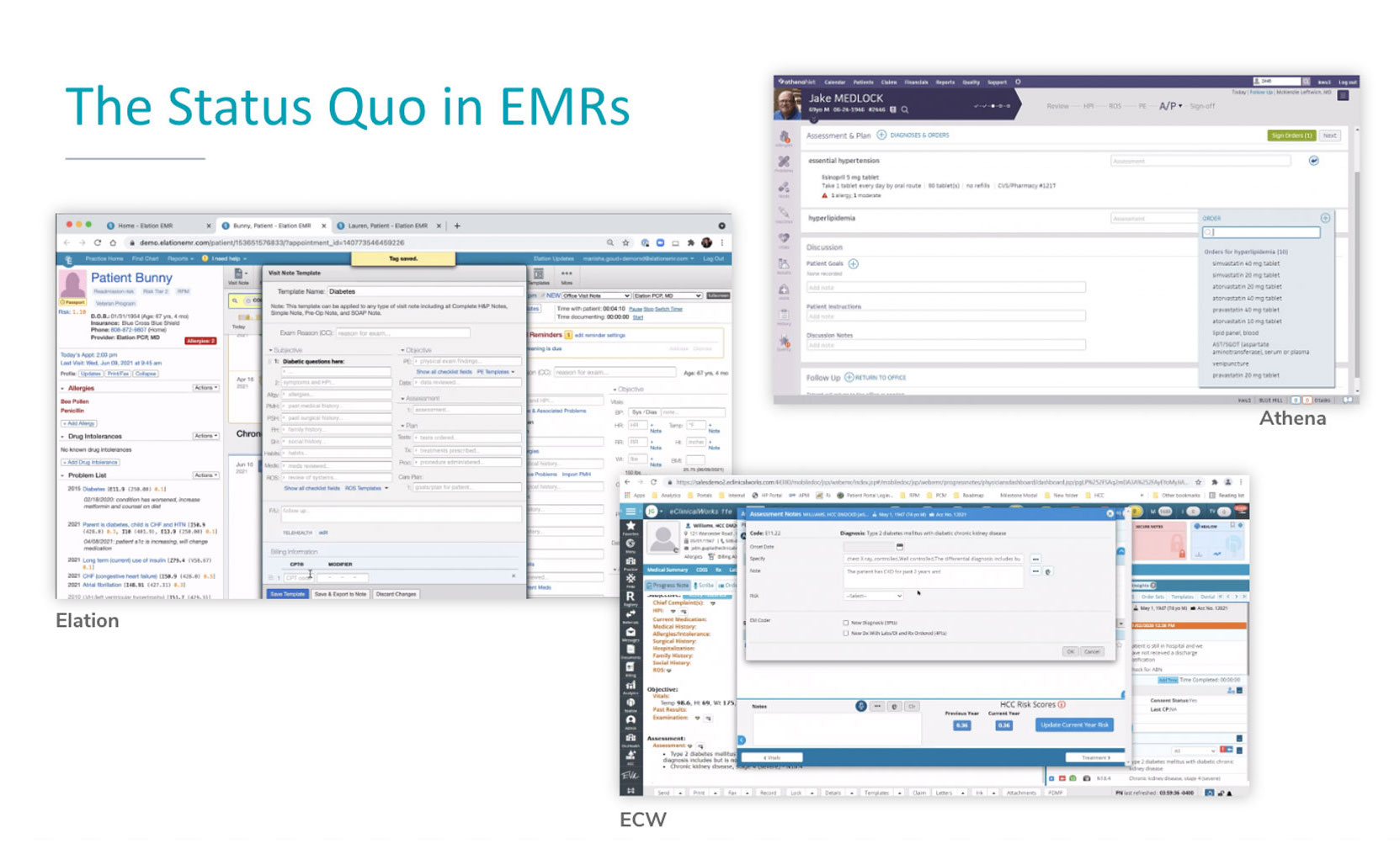 The Status Quo in EHRs
The typical EHRs in the market are up to 20 years old, and deeply ingrained in health systems. But there are several drawbacks:

• Bloated with too many features
• Complicated
• Not user friendly
• Web-based, and not touch-enabled
• Focused on billing features
• Expensive
• Don't offer an easy way to add new features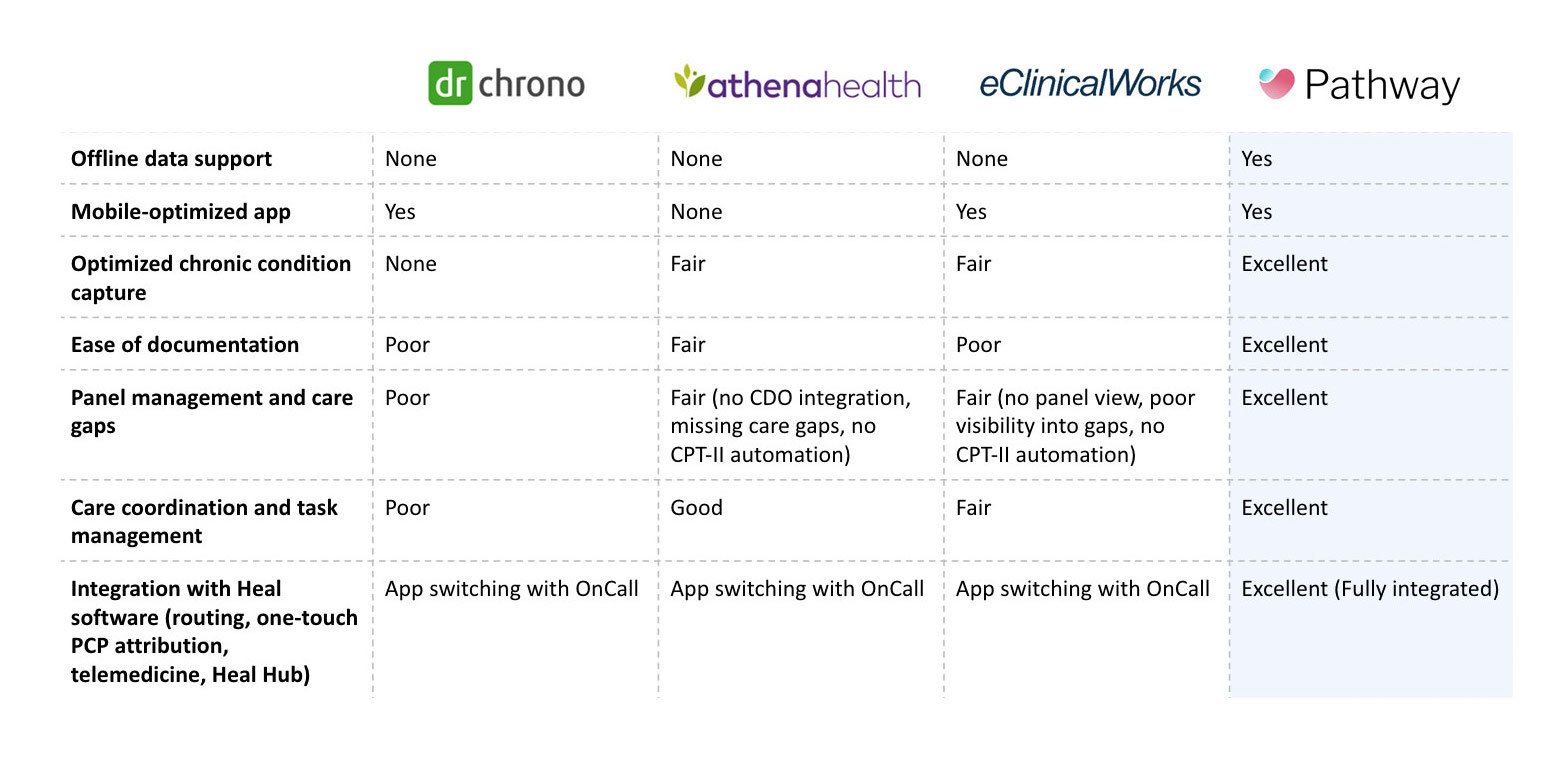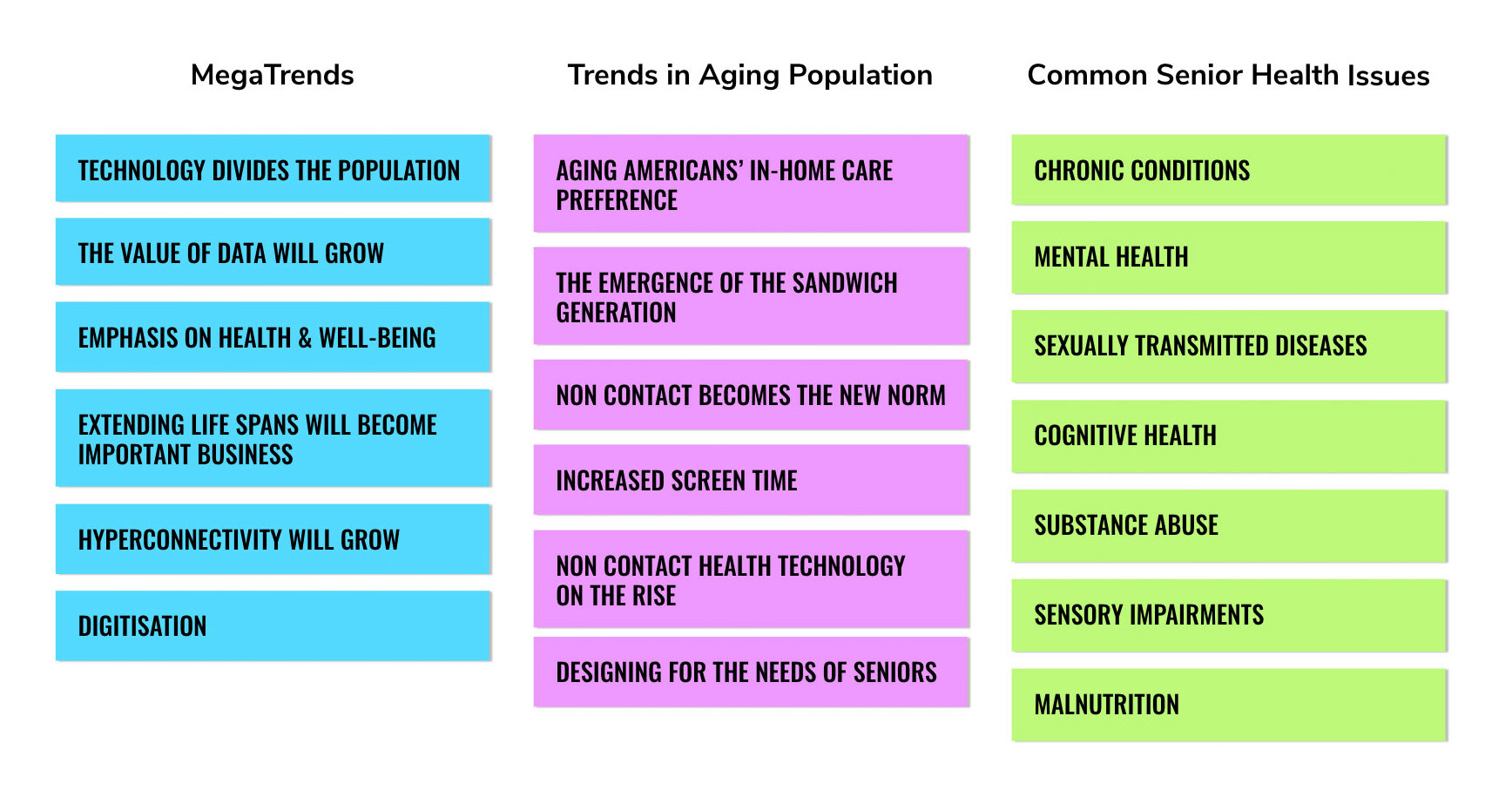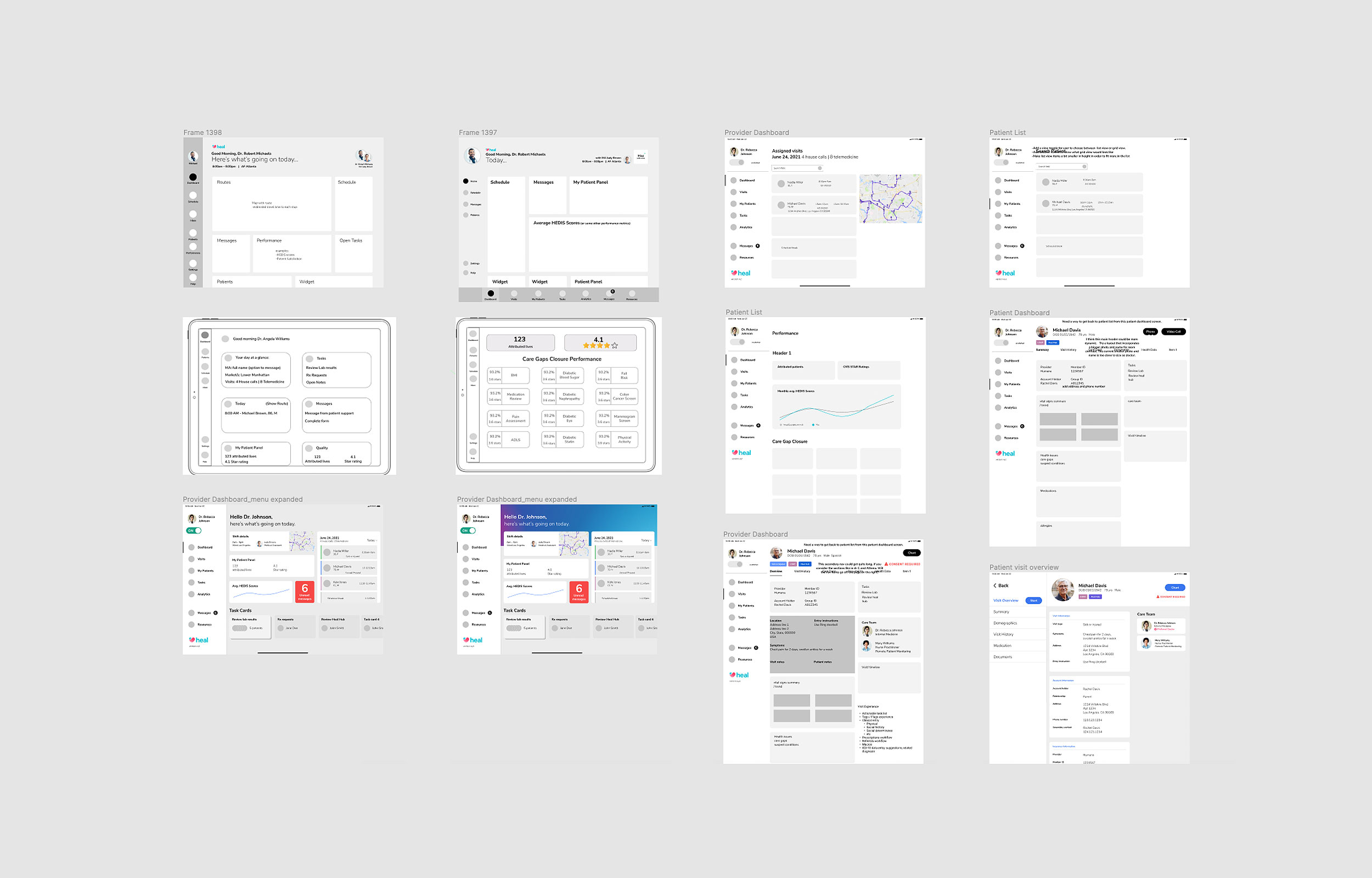 Ideation
Our goal for design was to create a product that had a robust feature set, yet was intuitive and aesthetically pleasing. The initial ideas explored several versions to show different navigation styles and content organization. The initial sketches were translated into low-fidelity wireframes using Figma. It was a fluid process. As product requirements were gathered though Provider insights, the wireframes were refined and improved.

As the designs matured, color and icons were added and rough prototypes were created in order to prepare for first round of user testing..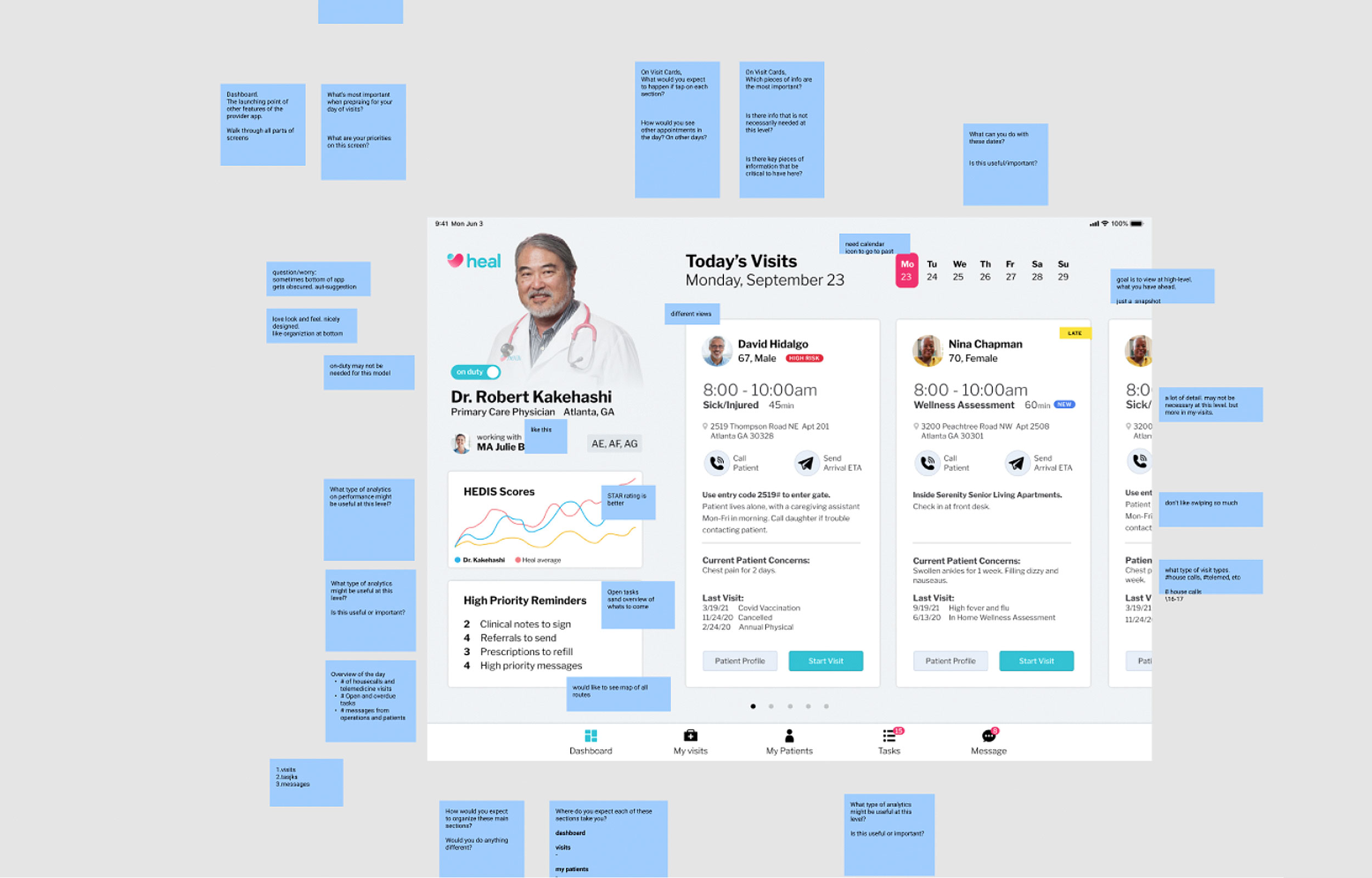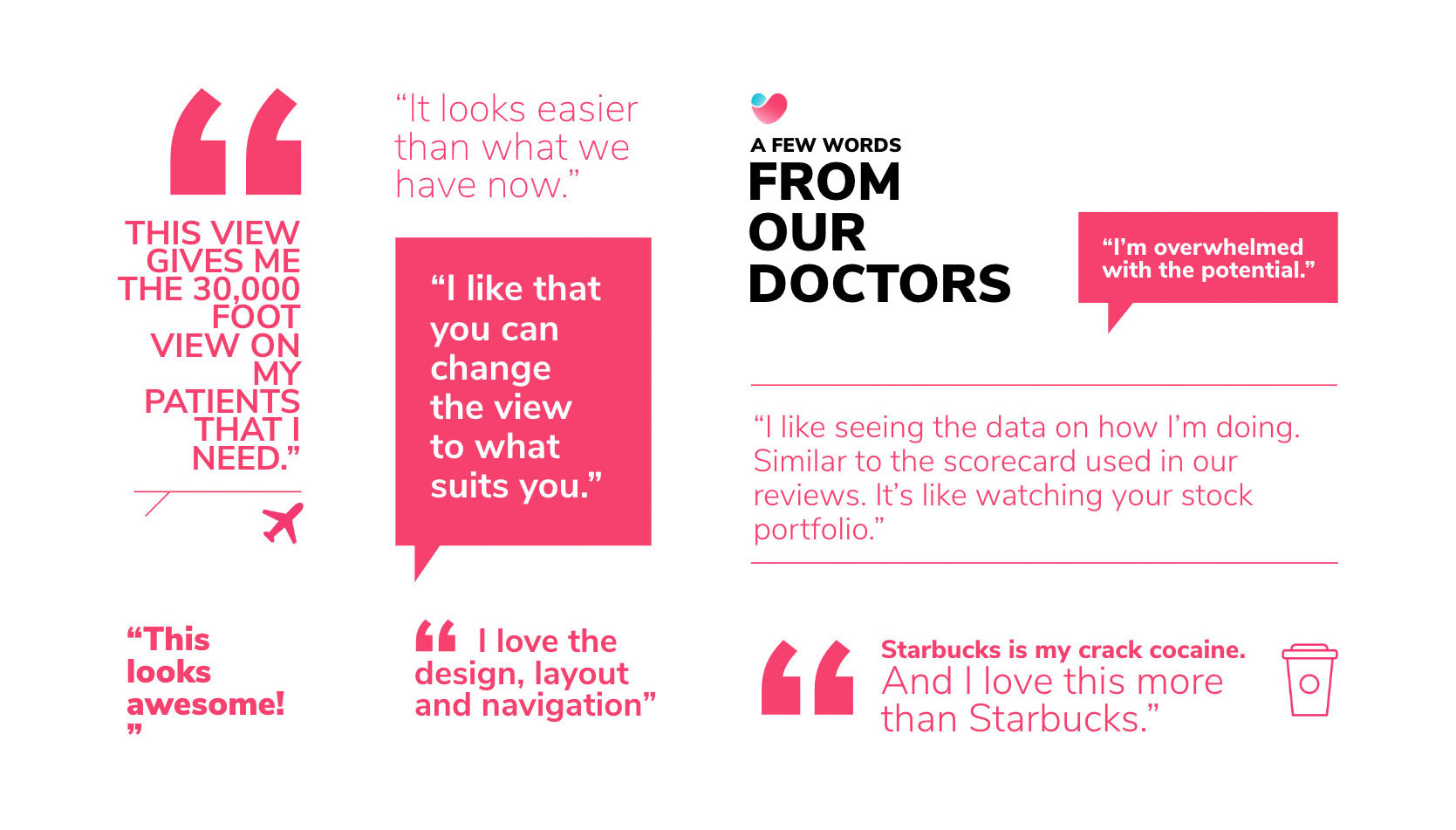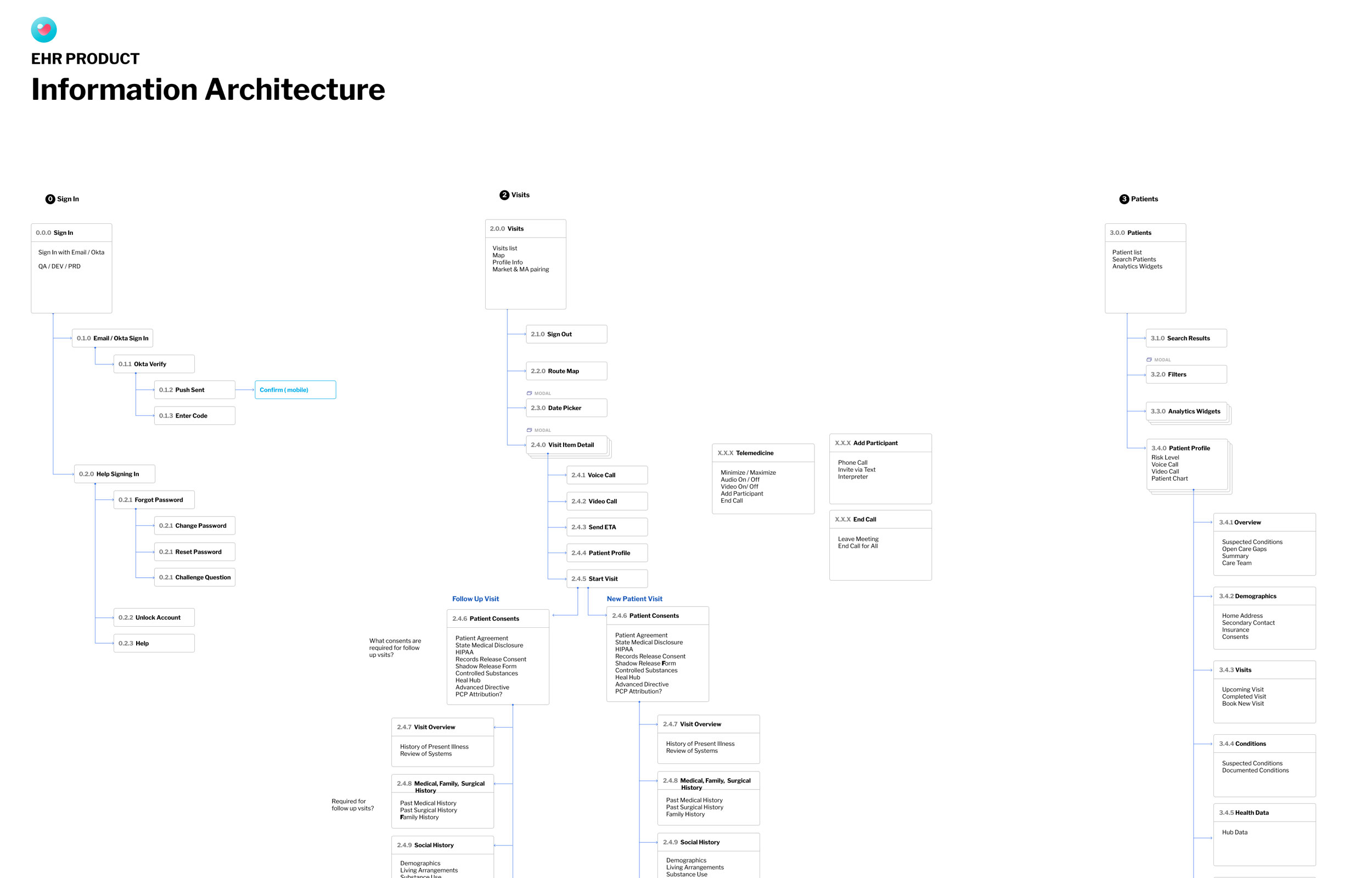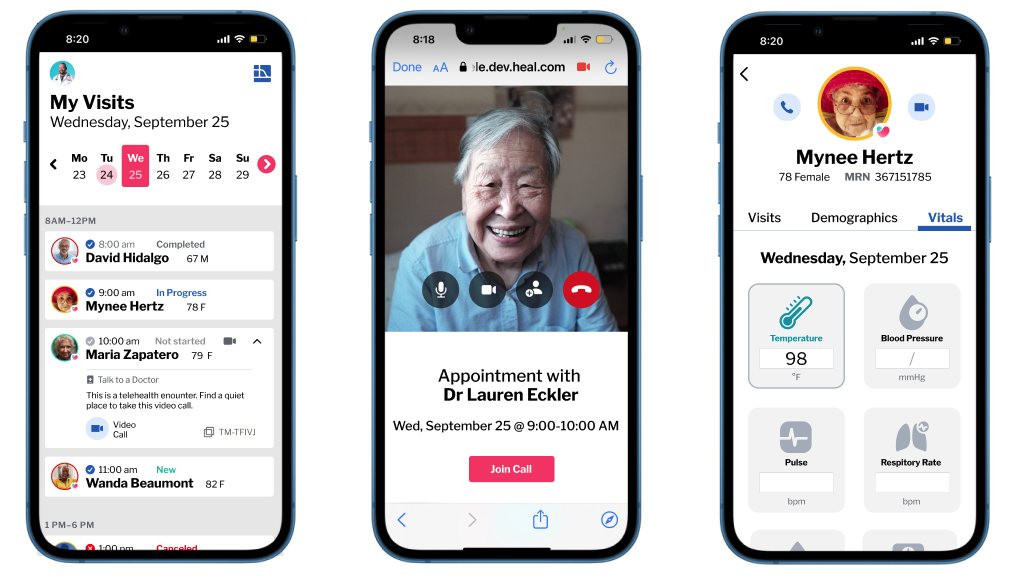 Mobile Web Version
In addition to the iPad iOS version, a web-based companion app was also created for other staff such as medical assistants and drivers, who need to have visit data, but don't have access to the EHR.
• Schedule
• Directions and home entry instructions
• Telemedicine
• Vitals entry
• Update insurance and demographic data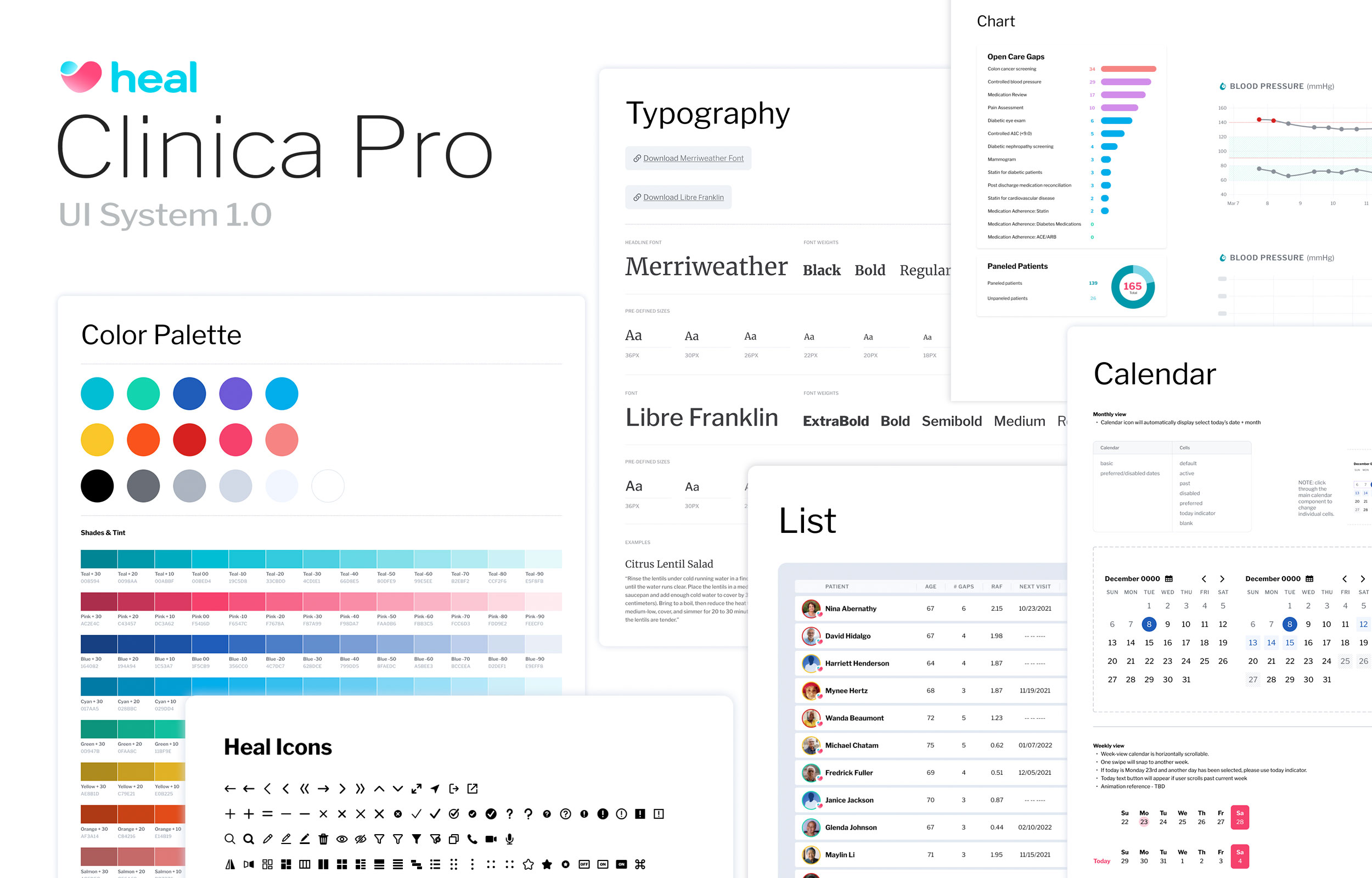 UI Design System
A new design system was developed to capture a cleaner, more modern aesthetic. The goal was to have a more consumer product appeal.

The system is able to grow with the product as more features are added. The result was a comprehensive new UI kit that accommodated all the needs of not only this product, but was the foundation of the design of subsequent follow on products.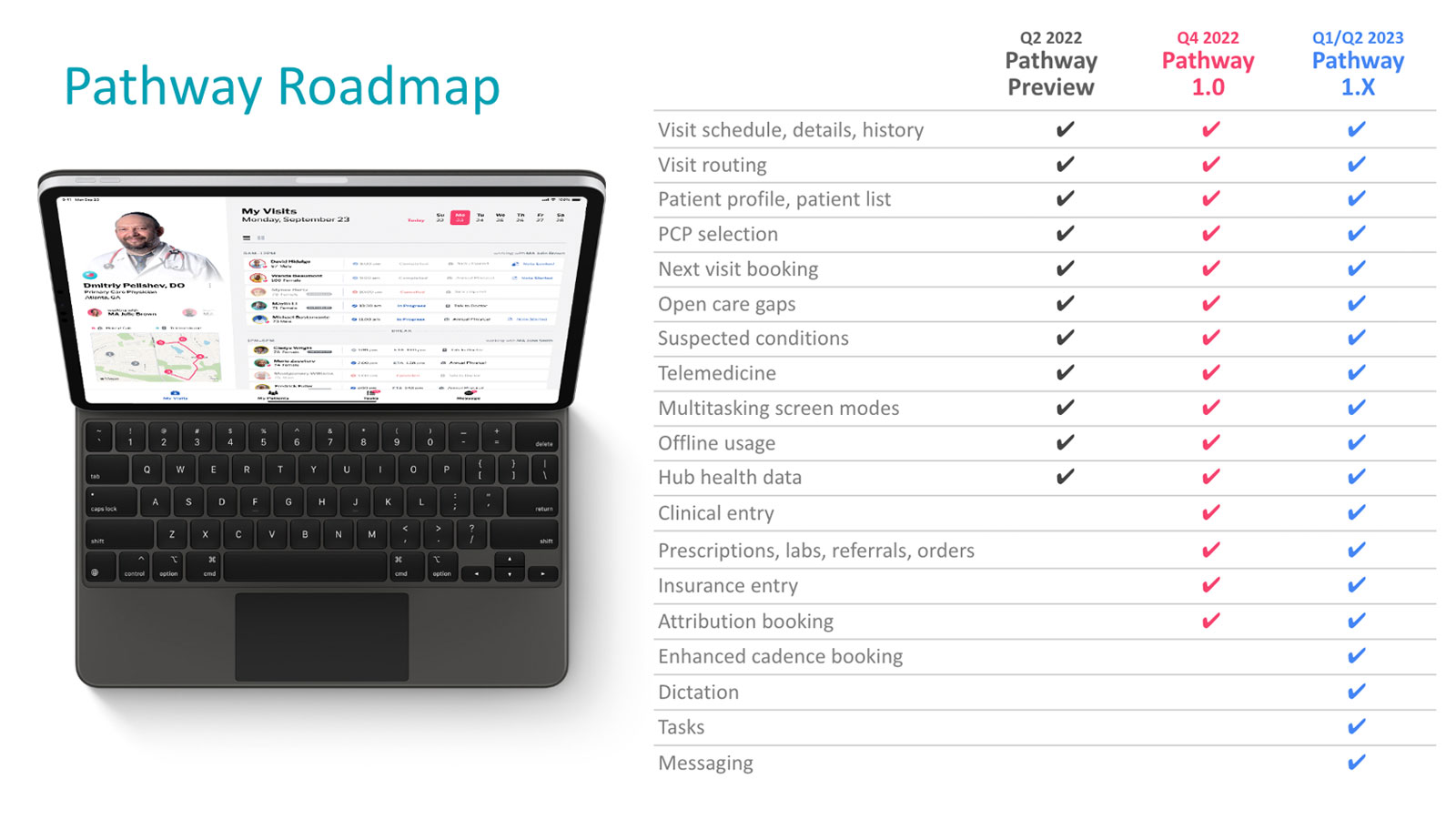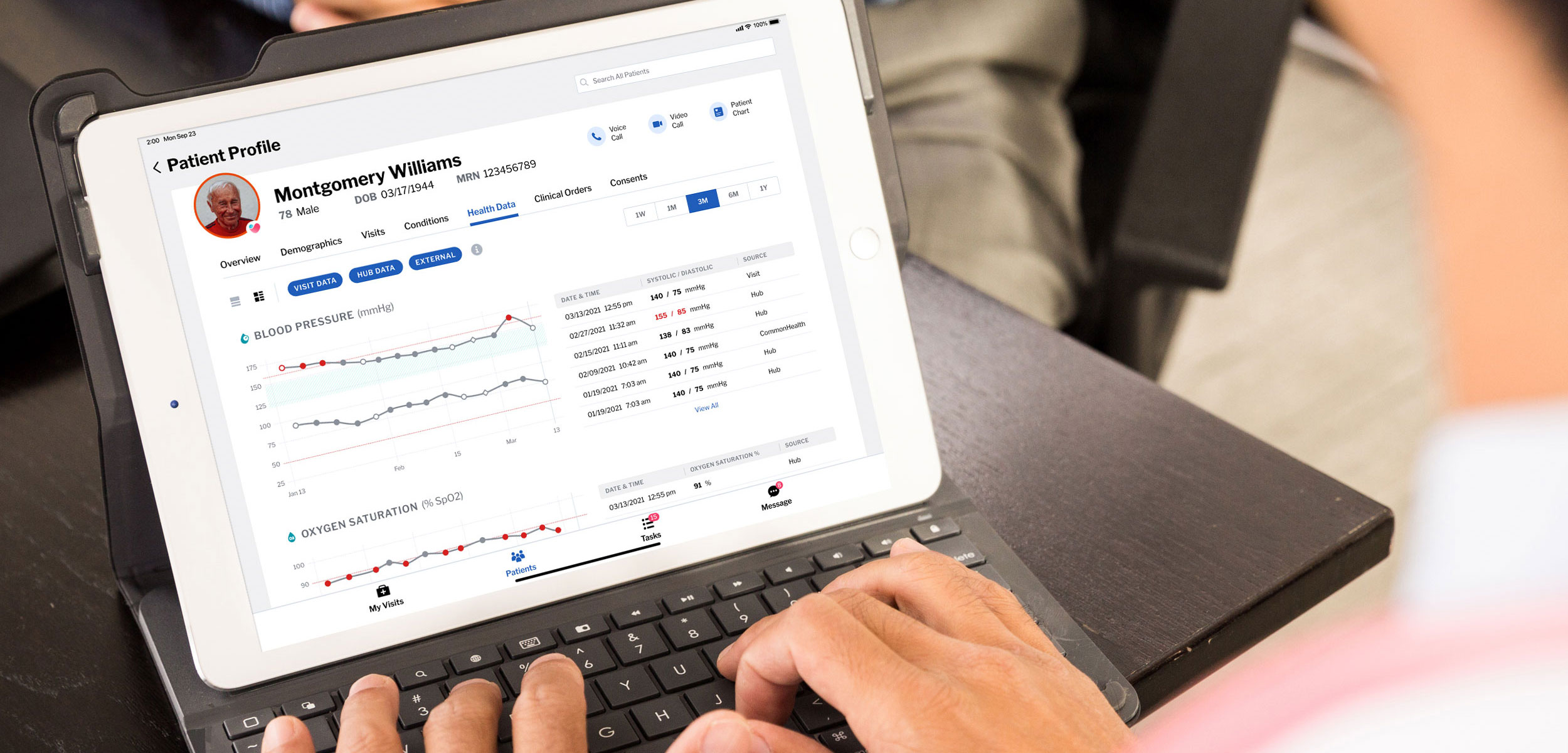 Final Thoughts
A beta version of the product was released in March of 2022, and the final product was released in January 2023.

Partnering with clinical staff was essential to the success of the product. The co-creation among clinical staff, design and engineering allowed for innovation opportunities in this very complex product. Close collaboration among the different disciplines allowed there to be a shared trust in what each of us brought to the team and our approaches. The working methods also helped shape our processes of discovery, user testing, iteration, and roll-out of releases. The learnings of this product will continue to influence my future processes product development.